Bev's Journey Home
A note from Mary Delurio to her friends: Her observation of the minutes before Beverly's journey home
Hi friends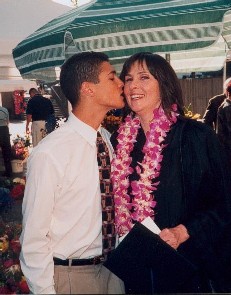 Hope all is well with you and your loved ones…
Tim and I had a very full weekend, but wanted to spend at least one hour of it with Bev, on Saturday. So we went over to Dianna's home around 2:00. Tim and I stood over Bev as she lay sleeping in her bed for about 15 minutes
praying. As I prayed and stroked her feet I was full of tingles. Julie was getting instructions over the phone from a nurse.
Tim was unsure if he should start playing his guitar in such a sacred family occasion… I asked Rosemarie if he should start playing now, and
she said "YES". So Tim began very quiet and gentle praise songs, starting with ~~~"I love you Lord".
Three lovely songs later, the whole house was lifted to the clouds. Little precious Jordan was walking around in smiles. Bev's son Jacob went to the piano and played a beautiful concerto from "Phantom fo the Opera", and his
mother's breath became shallow. Rosemarie, Pedro, Dianna, Rudi, Pat, Julie and Bev's friends were all huddled over Bev, as she gracefully ascended from her body. The room was filled with energy.
Tim and I were directed to let Jacob know he should go his mother's side, from the piano…but as I appoached him there playing… I hugged him hard from behind, and I simply broke down. Jacob, the strong man that he is, finished the last few notes of the piece, and then he glided to his mother's side and told her for the hundreth time of the day ~~~ that he
loves her.
I wish I could describe the moment. There were friends of Jacobs all over the place, cheerleaders and his friends standing in awe and disbelief. Some of us were sobbing. It all happened by 2:30 . . . Tim and I prayed the Rosary in a whisper. I have never experienced anything so incredibley beautiful. Bev was so peaceful, so present. So beautiful.
Tim and I will never forget this special time for as long as we live. My prayer: "Bev, as you gently rest in the arms of Jesus, thank you for letting us witness your peace, your grace. Thank you. You were a shining star on earth, and will forever shine in heaven and the new world to come. .. Hug Pat for me. Amen"