Overview
The work of Pat Mullins is now available. His speaking engagements, articles, and a video of the 2000 Charasmatic Convention of him leading prayer and praise is listed in the section Pat???s Work.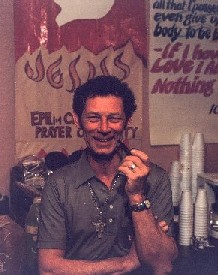 Projects
A film documentary of Pat Mullins life is a project being discussed but no progress has been made past discussions. If anyone is interested in helping to create, plan, participate and/or contribute to funding the project please send an email to dianna AT LAFPDL.com
Reading List: a reading list that Pat often recommended to individuals seeking a better understanding of how to build a deeper relationship with Jesus Christ is being worked on and should be available soon. If you are interested in this this information send an email to dianna.
New To Site
We have added mp3 audio formatted files to the site of Pat???s talks for immediate download. Click Here to find out how to get the Podcasts.
Pat's Memorial & Funeral Services
Eulogies given by Dianna Mullins, Pat's daughter and Jacob Mullins, Pat's grandson are in the link.