March 1st, 2008 by dianna
$5,000 awarded to  full-time UC Berkeley student !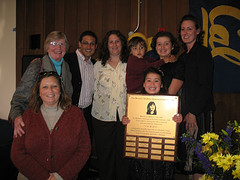 The 2007 Beverly Mullins Memorial Scholarship Recipient Katherine Riney Reyes with her family and the scholarship selection committee: Dianna Mullins, Helen Johnson, Jacob Mullins, Rudi Mullins (not shown are RoseMarie Mullins and Nikki Dones)
The UC Berkeley California Re-entry Alumni Chapter and the Mullins family have come together to crate a needs-based scholarship for Single parent re-entry students, doing full-time studay at UC Berkeley. The scholarship is in memory of Beverly Mullins, a 1998 graduate from the Department of Sociology.
Beverly attended UC Berkeley as a single mother with no outside financial support. She was challenged to focus on both her studies and the responsibility of raising her son, Jacob. Today, Jacob is a graduate of Yale University - a testament to Beverly's love, focus and determination to create, for him, a better life. The goal of the Beverly Mullins Memorial scholarship is to help other single parents also achieve success for themselves and their families.
For more background on the scholarship, please visit other areas of our site.